Pet Friendly
The Premier Dog Hotel in Vancouver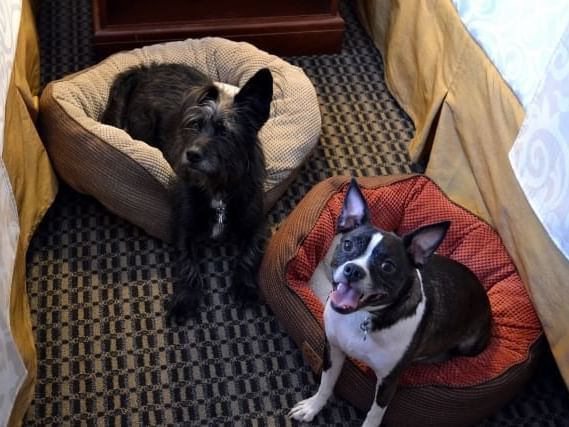 At the Best Western Premier Chateau Granville Hotel & Suites, we know how hard it is to leave your furry friend(s) behind when traveling so we are delighted to welcome your pooch(s) at the hotel.
Conveniently located in downtown Vancouver, we are perfectly situated for you and your dog to enjoy the best that the city has to offer. With plenty of wide-open parks, trails, attractions and beaches to share with your pooch, it is no surprise that Vancouver has been rated the #1 dog-friendly city in North America! An off-leash dog park is located just behind the hotel, while the local beach where your pet can enjoy a morning swim is located just 10 minutes away.
As we have limited Dog-friendly rooms to reserve, please contact the hotel directly at 1-800-663-0575 or email.
HOTEL DOG FRIENDLY PROGRAM
We are pleased to welcome you and your Dog to the Best Western Premier Chateau Granville in Vancouver!
Our pet amenities include:
A designated Dog-friendly floor (Lower floor) with spacious rooms to accommodate you and your pet.
A welcome gift bag with dog biscuits, waste bags and an informational guide for local dog parks, attractions and services.
Dog beds and bowls available upon request.
A daily rate of $25 per night is applied.
We ask that you accompany your Dog at all times while staying in the hotel. Dogs are not permitted to be left alone in our guest rooms under any circumstances. If you are planning activities that your dog cannot attend we recommend arranging dog care in advance.
HOTEL PET POLICY
Dogs may not be left in the guest room unattended.
A charge of $25.00 per night applies for all pets and will be added to your guestroom folio ($150 CAD per week maximum). (Certified Guide Dogs are exempt from this charge).
Maximum of Two dogs per room
If a Dog is left alone in a guest room and the owner cannot be located, the dog will then be removed to another location and a $25.00 per hour pet sitting fee will be assessed.
In case of emergency owners must provide a contact cell phone number to the Front Desk.
Any property damage caused by a pet will be the dog owner's responsibility and the appropriate charges will be applied to your folio.
Municipal regulations restrict all pets from all restaurants (except for Certified Guide Dogs)
Dogs must wear a current year license tag on their collar.
Pick up after your pet and dispose of waste in a garbage can.