Awards & Accolades
At The Best Western Premier Chateau Granville Hotel & Suites, we strive to be consistently recognized among the best hotels in Vancouver, BC. We understand our guests' needs better than anyone else in the industry, it brings us great satisfaction to see how well our team has delivered our hotel promise.
We pride ourselves on offering exceptional quality and guest service. When we receive an award, it means we're doing our job and doing it right.
A big thank you to all our guests and our amazing team for contributing to the success of the Best Western Premier Chateau Granville Hotel & Suites. Below are some of our most recent awards and accolades.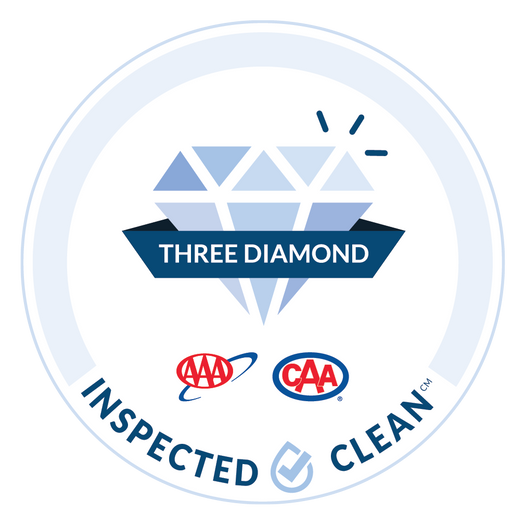 AAA Three Diamond rating with certified Inspected Clean Program
Congratulations to Sheila Sabinorio and the team at Best Western Premier Chateau Granville Hotel & Suites & Conference Centre for earning AAA's Inspected Clean designation. Only properties that pass AAA's rigorous and unscheduled annual inspections can earn Diamond designations which are designed to instill confidence among AAA's 62 million members looking to book a clean, comfortable and safe hotel experience.
The Best Western Premier Chateau Granville received the Champion Green Award!
The Champion Green Award is earned by properties that demonstrate a commitment to sustaining resources and reducing their carbon footprint. The recipients must comply with the AH&LA Green guidelines and/or the Green Key programs in Canada, and receive a bronze, silver, gold or platinum rating in the TripAdvisor® Green Leaders program. The hotels must also meet quality and service standards and other membership requirements to qualify for this award.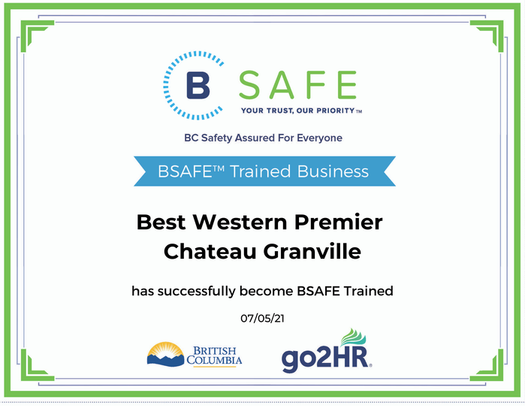 BSAFE™ Trained Business by Go2HR
We are very excited to announce that Best Western Premier Chateau Granville has achieved BSAFE™ Trained status, demonstrating our commitment to providing a safe environment for our guests and workers.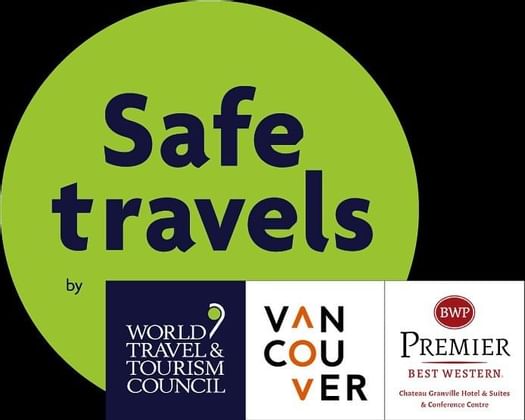 Safe Travels Stamp 2021 by the The World Travel and Tourism Council
The World Travel and Tourism Council (WTTC) has recognized @chateaugranville's efforts in implementing enhanced health and safety measures, in line with the WTTC global Safe Travels protocols. As a result, @chateaugranville achieved the Safe Travels Stamp, which is endorsed by the World Tourism Organization.
This specially designed stamp allows travellers to recognise businesses around the world which have adopted health and hygiene global standardised protocols and re-establish consumer confidence in Travel & Tourism – so consumers can experience 'Safe Travels'.
It is the world's first ever global safety and hygiene stamp for Travel & Tourism, designed to address COVID-19 and similar outbreaks.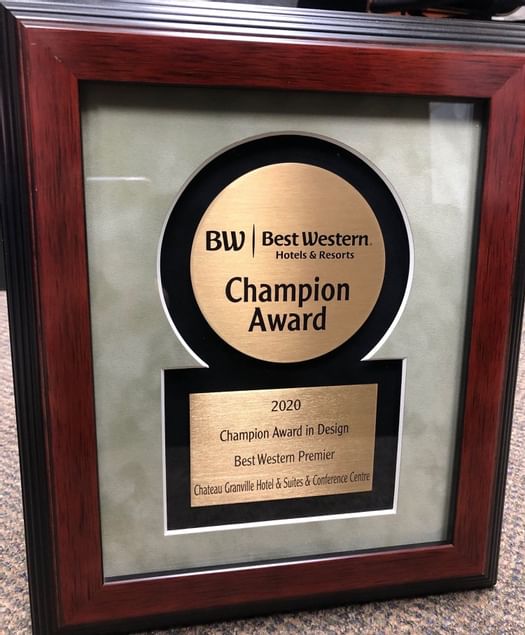 Chateau Granville awarded The 2020 Best Western Design Champion Award
We are delighted to announce that our multi-award winning hotel in downtown Vancouver has added yet another award to its name. Each year, Best Western selects hotels throughout the U.S. and Canada that are "stellar examples of the exceptional level of quality and beautiful aesthetic that Best Western strives for" and honors them with Best Western's Champion Award in Design.
2019 was a big year for improvements, and we continue to value design aesthetics throughout the property.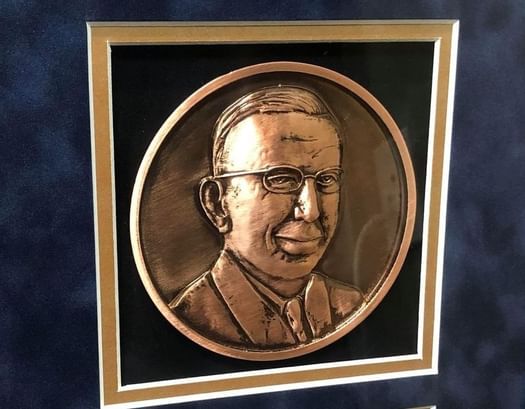 Chateau Granville awarded M.K. Guertin Award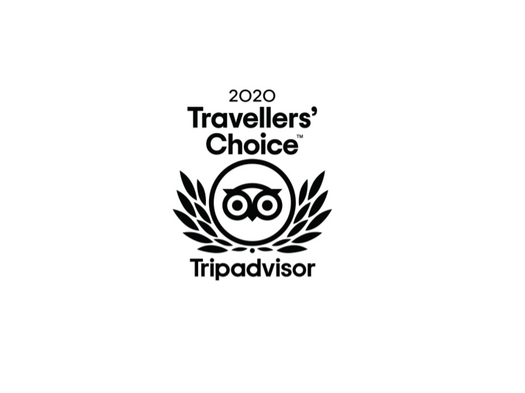 TripAdvisor 2020 Travelers' Choice Award
Another Award to be Proud!
We are delighted to be awarded 2020 Travelers' Choice Award from TripAdvisor and we sincerely thank our guests for their great reviews and feedback.
This recognition, formerly known as the Tripadvisor Certificate of Excellence, honors hotels that meet the highest standards of customer service and consistently receive high praise and ratings from travelers.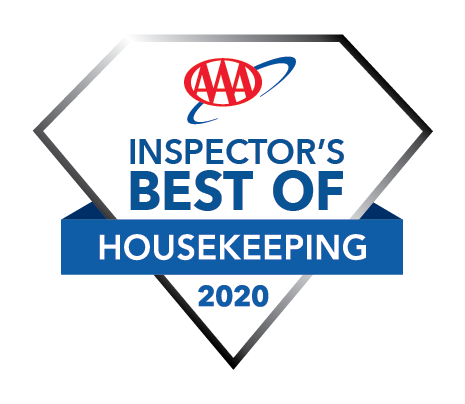 AAA Best of Housekeeping
AAA inspected and approved hotels must meet standards of cleanliness and condition scores to receive a diamond rating. Facilities awarded the Inspector's Best of Housekeeping designation have significantly surpassed these expectations.
All areas of the property have received a comprehensive, on-site inspection that reflect this very high standard as AAA inspectors review for evidence of dirt, dust, pests, equipment performance etc.
The AAA Best of Housekeeping Badge is a tremendous asset and we are honoured to be designated as AAA Best of Housekeeping property for 2020.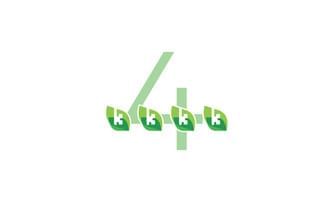 Green Key Certified
The Green Key Eco-Rating Program is a graduated rating systems designed to recognize environmentally friendly hotels. The *Best Western Premier Chateau Granville Hotel & Suites has achieved the impressive 4 Green Key rating and has succeeded in our efforts to protect the environment. Our hotel is also proud to be a certified 4 Green Key Meetings property, offering a sustainable meeting solution to our guests.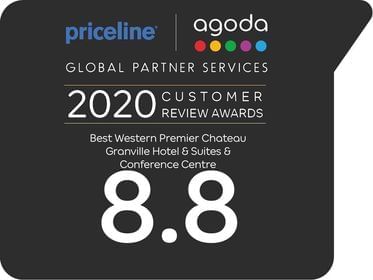 2020 Agoda Customer Review Award
The Chateau Granville hotel recently received the 2020 Agoda Customer Review Award, a recognition given by the travel book platform to hotel brands with an average review score of 8.0 or above, from genuine customer reviews based on five key criteria including location, service, cleanliness, facilities and price.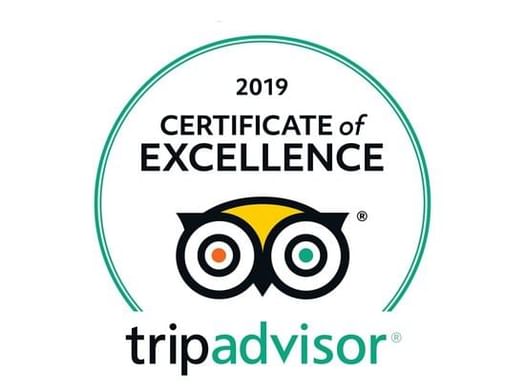 Tripadvisor Certificate of Excellence 2019
The Certificate of Excellence accounts for the quality, quantity and recency of reviews submitted by travelers on TripAdvisor over a 12-month period. A Certificate of Excellence is awarded to properties that consistently achieve outstanding traveler reviews on TripAdvisor.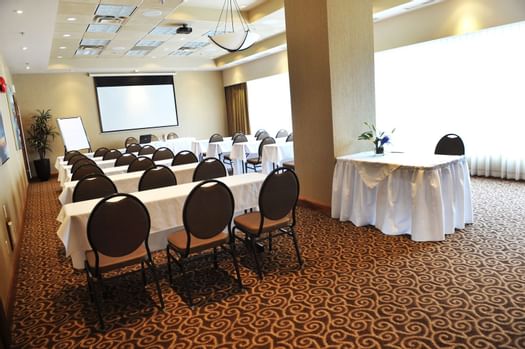 Best Western Champion Directors Award 2017
The Director's Award recognizes Best Western hotels that score in the top 20 percent of more than 2,100 North American properties in cleanliness and maintenance. Hotels must also meet Best Western's requirements for design and high customer service scores to qualify for this distinction.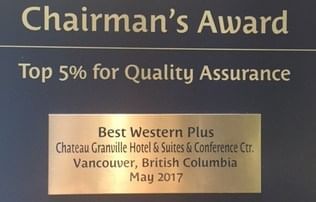 Best Western Chairman Award 2017
The Best Western Chairman's Award is the hotel chain's highest honour for outstanding quality standards.
The Chairman's Award recognizes Best Western International hotels with a cleanliness and maintenance inspection score of 1,000 points out of a possible 1,000.
Hotels must also meet Best Western's requirements for design and high customer service scores to qualify for the award.
Tripadvisor Green Leaders Gold Recognition
We have been recognized by Trip Advisor's innovative Green Leaders Program as a Gold level hotel for our commitment towards green practices such as recycling, local and organic food, carbon offsetting and our electric vehicle charging stations.
The TripAdvisor Green Leaders Program helps our travelers plan more sustainable stays by identifying environmentally-friendly accommodations.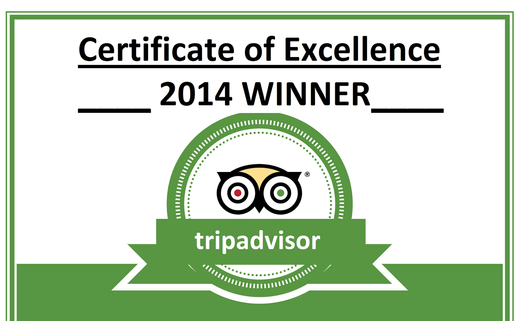 TripAdvisor Certificate of Excellence 2014
Our in-house restaurant, The Edge Social Grille & Lounge, was awarded the TripAdvisor Certificate of Excellence for 2014. Restaurants that maintain an overall rating of four out of five are given this recognition.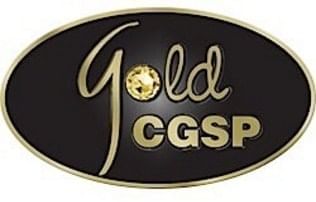 American Hotel & Lodging Educational Institute Guest Service Gold
The * Best Western Premier Chateau Granville Hotel & Suites is proud to be recognized as the first property in Canada to achieve the Certified Guest Service Gold designation.