COVID-19 SAFETY PLAN
We want you to know the safety of our guests and associates is our top priority
Our entire team is fully trained towards ensuring the restaurant is a safe space for both our guests and employees alike.
When You Dine With Us
You should have confidence when you visit us that we are doing everything we can to ensure a safe and secure environment ready for you. We are closely monitoring the World Health Organization (WHO) and local health agencies for the latest developments related to COVID-19 and following the guidance of the government and public health officials.
Face Masks
Please note all guests are recommended to wear a face mask in all our indoor public spaces.
When you visit The Edge Social Grille & Lounge, you'll notice we've put the following new measures in place to give you peace of mind: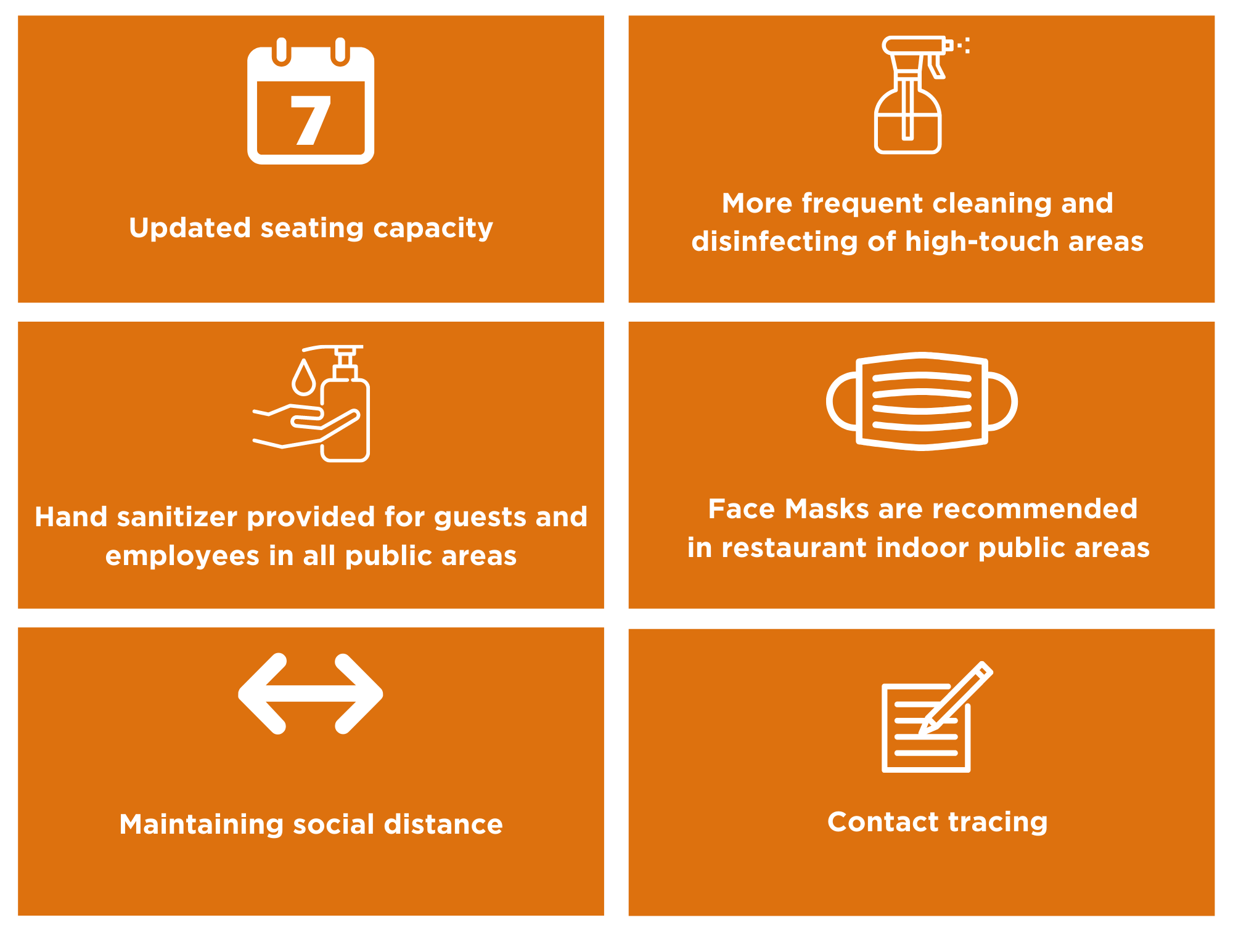 GENERAL CONDITIONS
• All employees must read, agree to & sign the safety plan and most importantly uphold the standards included herein.
• Employees will be reminded and monitored for general hygiene including hand washing, face touching, and cross-contamination.
• The Edge Social Grille & Lounge will maintain all necessary sanitation, soap, towels & PPE for staff.
• Cleaning materials and chemicals will be separated front and back of house.
• Garbage containers will be lined with plastic garbage bags.
• Restrooms will be outfitted with warm running water, soap & paper towels.
• Hand sanitizer will be available for guests.
• Employees involved in deep cleaning will be encouraged to wear gloves & masks provided.
• Cleanliness & sanitation checklists will be updated & circulated for all stations as they change.
• Guests will be strongly encouraged to reserve tables.
• All kitchens must contain only essential personnel.
• Safety plan will be posted online.
PHYSICAL DISTANCING

• Will minimize table movement.
• Will modify shift meetings by maintaining 6 feet between attendees.
• Our policy is to avoid situations where staff have less than 1 m or 3 ft between them and a guest (particularly face-to-face connections should be distant).
• The Edge Social Grille & Lounge will ask staff and management to maintain respectful distances from coworkers and avoid additional points of physical contact between team members.
• Our policy is to set tables without condiments. They will be brought upon request and will be single-use items.
• Our policy is to let guests forward coffee cups and water for refills without handling. If this is not possible, fresh cups and glasses will be brought to the table.
• All Menus will be single-use and disposable for guests.
• Drink and food pads that guest use will be disposable.
• The restaurant will post signage, flow stickers & social distancing reminders to minimize unnecessary contact where applicable.
Face Masks
As we continue to battle the COVID-19 pandemic, the health, welfare and safety of our guests and associates is of paramount importance. Please note all guests are recommended to wear a face mask in all our indoor public spaces.
Safe Travels Stamp 2021 by the The World Travel and Tourism Council
We have further strengthened our commitment to the health and safety by earning the Safe Travels Stamp, which is endorsed by the World Tourism Organization. The World Travel and Tourism Council (WTTC) has recognized Chateau Granville's efforts in implementing enhanced health and safety measures, in line with the WTTC global Safe Travels protocols.